Save the date for BCAF Shochugeiko August 11-13, 2023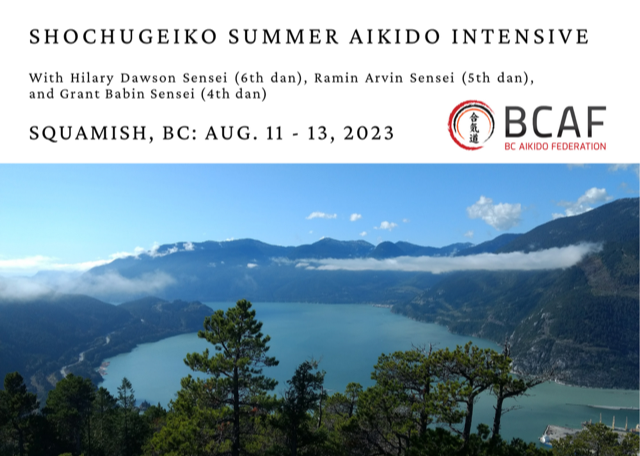 The BCAF and Aikidaily International Academy (Grant and Rie Babin) are excited to announce that the BCAF's inaugural Shochugeiko (summer training intensive) will be held in Squamish, BC, on the weekend of Friday August 11 to Sunday August 13, 2023.
Building on the success of the BCAF Kangeiko in Clearwater last February, Shochugeiko will provide another opportunity to strengthen social connections within our BC aikido community, provide support and encouragement to our beginner, intermediate, and advanced practitioners and instructors, and challenge our own personal aikido training.
Hilary Dawson Sensei (6th dan, Victoria Aikikai and dojo-cho of the University of Victoria Aikido Club) will be our special guest instructor, with additional instruction provided by our two newest shidoin, Ramin Arvin Sensei (5th dan, VWA New Westminister) and Grant Babin Sensei (4th dan, Aikidaily). 
Yes, there will be kids' classes. Yes, there will be time to explore beautiful Squamish. Yes, we will be arranging ride sharing. Yes, you can stay in the Aikidaily dojo for the full "gasshuku" experience (or not: if bargaining for shower time isn't your thing, we won't judge!). Yes, there will be a Saturday night party. Probably one on Friday night too…
Yes - it's going to be a fun time. If you think you can come, please let us know as soon as possible (Myrna: memberatlarge1@bcaikidofederation.ca or Grant: memberatlarge2@bcaikidofederation.ca). Having a better idea of potential numbers will help us greatly with our planning. We are still working on the schedule and pricing and will distribute further details when we have them.
It's Shochugeiko - get ready to get sweaty!