Discover Your Inner Power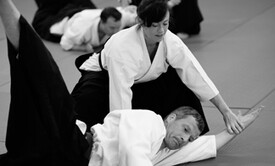 Aikido is a traditional Japanese martial art, the modern form of which was founded in 1925 by Master Morihei Ueshiba (O'Sensei). The techniques that form the basis of modern Aikido are derived from centuries-old tactics developed by Samurai warriors. While Aikido has evolved in the historic tradition of Japanese warrior arts, it is more than just a science of tactics and self-defense; it is a discipline for perfecting the spirit.
The Japanese word Ai-ki-do consists of three Kanji characters which can be translated as "the way of unity with the fundamental force of the universe". Aikido practitioners train to integrate their body, mind and spirit through harmonious practice of the basic principles of Aikido. Aikido teaches us to be aware of our surroundings and to use our bodies to move with physical confrontation instead of against it.