Osawa Shihan Summer Seminar Series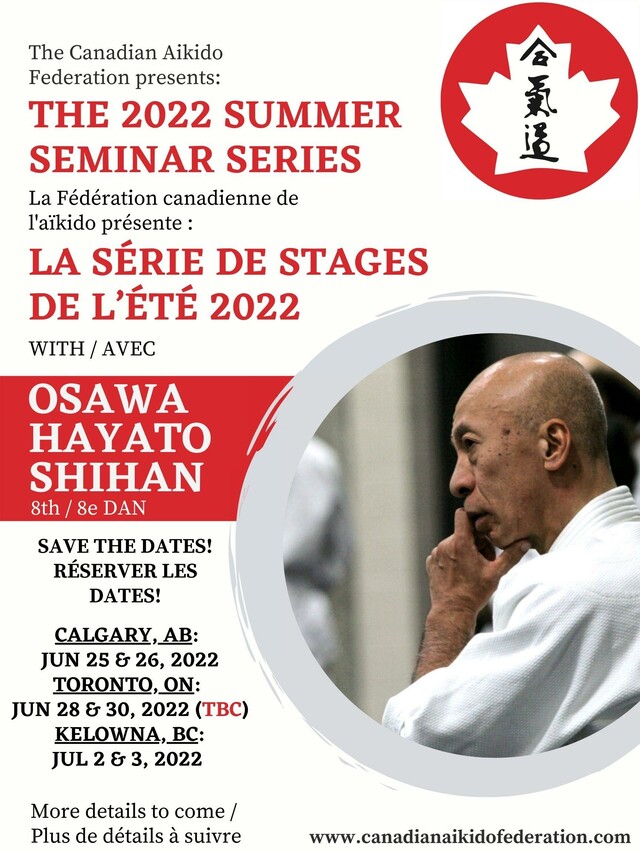 The Canadian Aikido Federation announces a first Summer Seminar Series with Osawa Shihan, 8th Dan.  The series will take place over 9 days (June 25 - July 3) with classes in Calgary, Toronto, and Kelowna.
Although the CAF hosted a marvelous virtual seminar in 2020, this is our first opportunity to train in person with Sensei since the fall of 2019.  We hope to see many of you on the mats!
Further information from the CAF, including links to the CAF website, is below:
CAF 2022 Summer Seminar Series with Osawa Shihan - More Details 
We are very excited about the upcoming seminar series. Please find links below to each city's seminar page with Locations, Schedules & Fees. Posters for each event are also attached.
Please note that Registration launches Friday April 8, 2022.
Calgary, AB: June 25 & 26, 2022 (weekend seminar)
Toronto, ON: June 28 & June 30, 2022 (evening classes only)
Kelowna, BC: July 2 & 3, 2022 (weekend seminar)
–
La Série de stages - été 2022 - de la FCA avec Osawa Shihan - Plus de détails
Nous sommes très enthousiastes pour la série de stages à venir. Vous trouverez ci-dessous les liens vers les pages des stages de chacune des villes, avec les ieux, les horaires et les frais. Des affiches pour chaque événement sont également jointes.
Veuillez noter que l'inscription sera lancée le vendredi 8 avril 2022.
Calgary, AB : 25 et 26 juin 2022 (stage de fin de semaine)
Toronto, ON : 28 juin & 30 juin 2022 (cours du soir seulement)
Kelowna, C-B : 2 et 3 juillet 2022 (stage de fin de semaine)
Canadian Aikido Federation (CAF) Administration

Administration de la Fédération canadienne d'aïkido (FCA)