Osawa Shihan Seminar Registration Now Open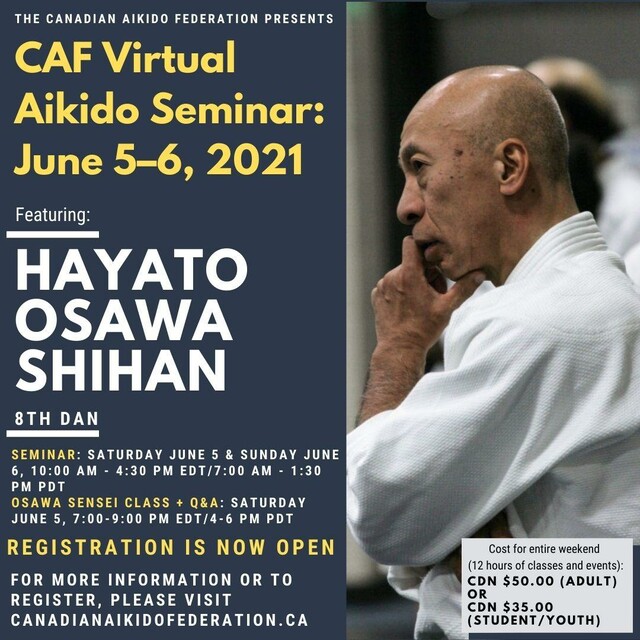 Registration for the CAF Virtual AIkido Seminar, featuring a special class and Q&A led by Hayato Osawa Shihan (8th dan, Aikikai), is now open!
The CAF is very pleased to invite you to its first-ever Virtual Aikido Seminar, to be held Saturday, June 5 and Sunday, June 6, 2021. We have a full schedule of Zoom classes led by senior CAF instructors, panel discussions examining "The Future of Aikido" and "Aikido Re-entry in Post-pandemic Year 1", and workshops on the topics of  "Stretching and Strengthening Exercises for Aikido Practitioners" and "Teaching Methodology From Shodan to Yondan". As well, lunch breaks will include a "Tribute to Kawahara Shihan" to mark the 10th anniversary of his passing and a Historical lecture on samurai with George Hewson Sensei. 
The highlight of the seminar will be a 60-min Zoom class on Saturday night led by Osawa Sensei (7-8 PM EDT/4-5 PM PDT) followed by a 60-min Q&A session with Sensei (8-9 PM EDT/5-6 PM PDT). This virtual class and Q&A session represent a rare opportunity to learn from Osawa Sensei despite the ongoing travel restrictions. Simultaneous French interpretation for this special event will be provided.
The full schedule (approximately 12 hours of classes and events) will be available for viewing in mid-May. The cost for the entire weekend is CDN$50 for adults and CDN$35 for students and youths.
To register, please go to CAF Virtual Seminar 2021 Registration
Please visit the CAF website for updates.