BCAF Statement On The COVID-19 Pandemic Impact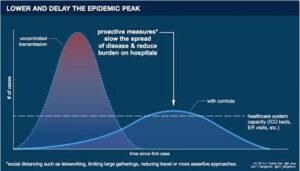 Greetings Everyone,
The executive of the BCAF has been discussing what we can do to support dojos in BC. The swift escalation of the epidemic – now a pandemic – leads us to consider how best to support our communities.
We believe it will be helpful to make sure that all dojos have access to the information that has led some to announce temporary closures. Member dojos are spread all over the province, and each is unique in its situation, so each must make its own decision. The situation changes daily, and we're all trying to keep current and make the best choices.
Vancouver Aikikai closed on March 10. Vancouver West Aikikai closed its doors two days later on the advice of Dr. Bob Wolber, a dojo member and student of Ishiyama Shihan since 1993. Bob Wolber MD, MPH, is Department Head and Medical Laboratory Director at Lions Gate Hospital/ Coastal Community of Care and 3rd Dan in Aikido. A part of Bob's letter is reproduced below.
"Viral shedding occurs before you become symptomatic. It is likely that 10 to 20 million Canadians will be infected before a vaccine is widely distributed in 12 to 18 months. While 80% of infected individuals will have a mild illness, in 20% it will be severe. 5% of infected individuals will require hospitalization (up to one million patients), and there are a total of 75,000 hospital beds in Canada.
"The only way we can hope to successfully cope with this [pandemic] is to "flatten the curve", meaning delay the transmission of the virus in the population so that the number of acutely ill is only a steady flow, rather than a tidal wave that overwhelms our ability to provide care.
"I recommend that all BCAF dojos discontinue Aikido practice indefinitely, until notified otherwise by public health officials. I know this is a harsh action and a real curtailment of a beloved activity and life commitment of the Aikido community. However, a single asymptomatic infected individual can transmit the virus to a number of individuals in a single Aikido practice. I would encourage Aikido members to stay in close contact through virtual means: social distancing does not mean social isolation.
"Wash your hands, stay home if you are sick (cough and fever; not the sniffles), phone your physician and ask to be tested if you believe you may be infected. Go to one of the new Urgent Primary Care Centres if you develop breathing difficulties."
The graphic below shows the shape of the number of cases over time in two scenarios: with and without the control of proactive measures. One of these proactive measures is social distancing. If we can limit the spread of the virus by these measures we will be contributing to the health and wellbeing of the communities we live in. Of those 75,000 beds mentioned in Dr. Wolber's letter, many hospital beds are already occupied by regular patients, so keeping the peak demand from COVID-19 as low as possible is important for all our communities.
Aikido practices do not fall under the description of mass gatherings, but the nature of our practice means that if one of us is infected we will not know it before we've gone to at least one practice and passed it on to every partner who in turn may infect others in our communities.
For further reading on dealing with Aikido and COVID-19, here is a link to an article from Aikido Journal.
https://aikidojournal.com/2020/03/15/age-of-coronavirus-a-time-for-leadership-and-unity/?mc_cid=688b87f435&mc_eid=6618922081
Our best wishes for the health and wellbeing of all our community,
Barb, Myrna, Jean, Adrian, Tony, and Bruce
BCAF Executive, 2020